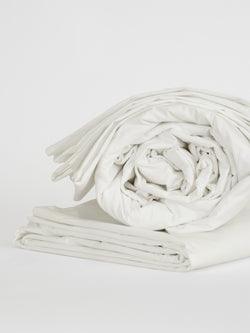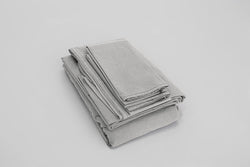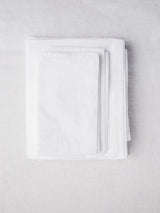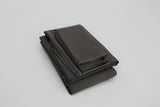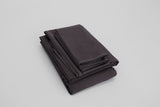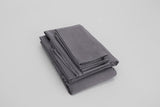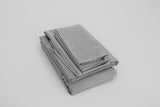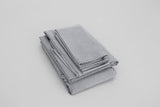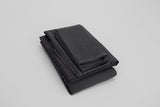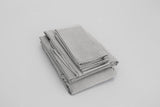 Description
Fabric
Care Details
Size
Sleep in the best. Sheet Sets make outfitting your bed with Tru simple. You even save 10% when you buy in a set versus individually.
A Sheet Set contains one fitted sheet, one flat sheet, and (depending on your bed size) one or two pillowcases. See Size details for what is included in each set size.
Please note: all items in your Sheet Set are garment dyed together in the color you choose' they will all be the same color. To mix and match colors, order items separately in the colors of your choice.
100% Cotton
Garment-washed and dyed using non-toxic dyes
Percale Weave
400 Thread count
When thread count became all the rage, we were disappointed with some of the gimmicks that were being used to declare absurdly high thread counts. Especially in percale fabrics. Thread count is simply a measurement of how many threads are in one square inch of fabric. A percale is a plain weave (or 1-over-1 structure) it is very challenging to weave a percale in very high thread counts; you can only pack so many threads into one square inch!
We love percale, so we decided to make the highest thread count percale possible using a very thin 100 singles cotton yarn. This is why we called it Tru(e). It is indeed a true 400 thread count percale with a light soft crispness that makes for a wonderful sleep.
Wash
Wash should be separated into light & dark colors. We recommend a lukewarm wash cycle with a gentle detergent & a cool rinse.
Do not use bleach on linen. Avoid using products that contain whitening agents such as chlorine bleach, alpha hydroxy acids and benzoyl peroxide on garment-dyed items. The reactive dyes used for garment-dyeing are not resistant to these whitening agents.
Learn more about Garment Dyeing
Drying
Tumble dry with low heat. Remove bed linens promptly from the machine to reduce wrinkling. For best results, line dry.
Ironing
We at MATTEO tend to prefer a lived-in look, as such, you Don't find us ironing our sheets too frequently. If you prefer a crisp looking bed, our linen should be pressed while slightly damp using the Linen or High setting.
King Sheet Sets include:

Cal King Sheet Sets include:

Queen Sheet Sets include:

Full Sheet Sets include:

Twin Sheet Sets include:

Twin XL Sheet Sets include: