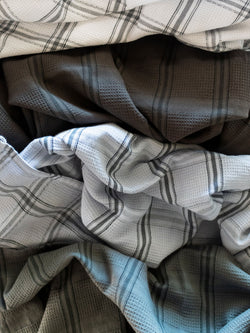 Description
Fabric
Care Details
Size
Our swatches allow you to see and feel each of our colors and fabrics first-hand, before you order our products. Each swatch is 10" x 10" and available in any of our Matteo colors.
100% cotton
Garment-washed and dyed using non-toxic dyes
We travel all over the world and attend flea markets looking for old "vintage" textile inspiration. CUCINA is inspired from an old dish cloth that had simply the best hand-feel for a kitchen. It turns out that although challenging, our talented weaving mill was able to perfect the window-pane design and the waffle-weave balance brilliantly. The real difficulty was in working with our dyer and wash house to recreate the vintage hand while making CUCINA super-extra-absorbent. No Enzymes. No softener. So how did we create CUCINA? With lots of good old fashioned trial and error.
Wash
Wash should be separated into light & dark colors. We recommend a lukewarm wash cycle with a gentle detergent & a cool rinse.
Do not use bleach on linen. Avoid using products that contain whitening agents such as chlorine bleach, alpha hydroxy acids and benzoyl peroxide on garment-dyed items. The reactive dyes used for garment-dyeing are not resistant to these whitening agents.
Learn more about Garment-Dyeing.
Drying
Tumble dry with low heat. Remove bed linens promptly from the machine to reduce wrinkling. For best results, line dry.
Ironing
We at MATTEO tend to prefer a lived-in look, as such, you don't find us ironing our sheets too frequently. If you prefer a crisp looking bed, our linen should be pressed while slightly damp using the Linen or High setting.
| | inches | cm |
| --- | --- | --- |
| Swatch | 10 x 10 | 25 x 25 |