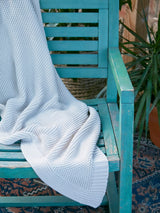 Description
Fabric
Care Details
Size
The Ellos throw has a smooth body and ribbed border to help maintain the shape through use and washing.
100% Cotton
Garment-washed and dyed using non-toxic dyes
Ellos is a soft cotton knit constructed from thick, plush yarns. This simple, modern blanket is the perfect lounging accessory.
Wash
Wash should be separated into light & dark colors. Do not overload machine as this will damage long cotton fibers. We recommend a lukewarm wash cycle with a gentle detergent & a cool rinse.
Bleach may be used on white cotton bed linens only. Avoid using products that contain whitening agents such as chlorine bleach, alpha hydroxy acids and benzoyl peroxide on garment-dyed items. The reactive dyes used for garment-dyeing are not resistant to these whitening agents.
Learn more about Garment-Dyeing.
Drying
Tumble dry with low heat. Remove bed linens promptly from the machine to reduce wrinkling. For best results, line dry.
| | inches | cm |
| --- | --- | --- |
| Throw | 50 x 70 | 127 x 178 |