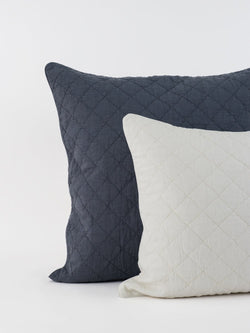 Description
Fabric
Care Details
Size
Constructed with a quilted linen face and a plain vintage linen backing, our Ida shams feature an envelope closure.
Sham vs. Pillowcase
Shams and Pillowcases are both used to protect pillow inserts, but there are a wide variety of constructions. Typically, shams are more fitted and employ some method of closure to keep the pillow in place, whereas pillowcases loosely encase the pillow and are open on the side. 
100% linen with poly batting
Garment-washed and dyed using non-toxic dyes
Our Ida quilted linen provides both warmth and decoration. It is constructed using two layers of our Vintage Linen along with a special batting and a unique quilting thread. The 3 inch diamond quilt is a variation on the more regular box quilts seen in the market. Ida will withstand home laundering, which makes it ideal for for your bed or your couch and chair. We worked hard to get the right balance of softness, warmth, and body you want in any quilt.
Derived from the flax plant, linen's durability and tendency to grow softer with time make it ideal for bedding that can last for years. Linen is naturally moisture absorbent and insulating. It keeps you cool when you are hot, and warms when you are cold. Linen is also hypoallergenic and antimicrobial.
Wash
Wash should be separated into light & dark colors. We recommend a lukewarm wash cycle with a gentle detergent & a cool rinse.
Do not use bleach on linen. Avoid using products that contain whitening agents such as chlorine bleach, alpha hydroxy acids and benzoyl peroxide on garment-dyed items. The reactive dyes used for garment-dyeing are not resistant to these whitening agents.
Learn more about Garment-Dyeing.
Drying
Tumble dry with low heat. Remove bed linens promptly from the machine to reduce wrinkling. For best results, line dry.
Ironing
We at MATTEO tend to prefer a lived-in look, as such, you don't find us ironing our sheets too frequently. If you prefer a crisp looking bed, our linen should be pressed while slightly damp using the Linen or High setting.
| | inches | cm |
| --- | --- | --- |
| King | 20 x 36 | 51 x 91 |
| Queen | 20 x 30 | 51 x 76 |
| Euro | 26 x 26 | 66 x 66 |