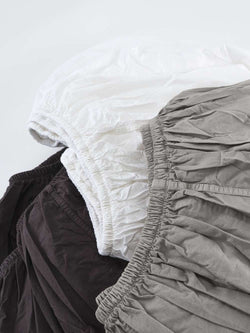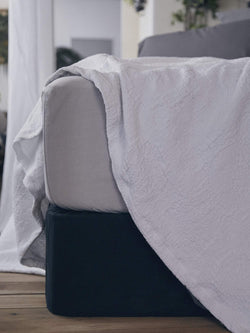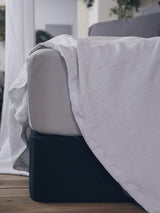 Description
Fabric
Care Details
Size
Our fitted sheets feature a strong elastic band that spans the entire sheet. The elastic band is encased in the bottom seam with a high density stitch to ensure that it retains strength through a lifetime of washing and use.
Our fitted sheets are finished with a flat felled seam that is tacked down at the top corner. This protects the weaker edges of the fabric and reinforces the corners that receive the highest amount of wear.
100% Extra-Long Staple Cotton
Percale Weave
225 Thread Count
Garment-washed and dyed using non-toxic dyes
Related Searches
Nap Sheets, Nap Fabric Collection, Hotel Percale Sheets, Percale Fabric Collections, Nap Duvet Cover
Nap is our best-selling hotel fabric for a reason; it is a classic. It is also clear evidence that thread-count is not everything.
This percale has a nice crisp finish that recalls the comfort of a lightly-starched white dress shirt. Nap will get softer and softer with every washing and it will be a favorite in your linen closet for many, many years.
Nap is woven with the finest 40's single-strand yarn available.The Italians call this weave a "quattro-quaranta" or "4-by-40". This means it uses 40's yarn in both the warp and the weft and has a density of 40 threads per centimeter in the warp as well as 40 picks per centimeter in the weft. The result is a fabric with a sturdy, balanced weave. Nap will last for a very long time making it ideal for not only hotels, but for any bedroom.
Wash
Wash should be separated into light & dark colors. Do not overload machine as this will damage long cotton fibers. We recommend a lukewarm wash cycle with a gentle detergent & a cool rinse.
Bleach may be used on white cotton bed linens only. Avoid using products that contain whitening agents such as chlorine bleach, alpha hydroxy acids and benzoyl peroxide on garment-dyed items. The reactive dyes used for garment-dyeing are not resistant to these whitening agents.
Learn more about Garment-Dyeing.
Drying
Tumble dry with low heat.Remove bed linens promptly from the machine to reduce wrinkling.For best results, line dry.
Ironing
We at MATTEO tend to prefer a lived-in look, as such, you don't find us ironing our sheets too frequently. If you prefer a crisp looking bed, our cotton bed linens should be pressed while slightly damp using the Lightweight Cotton or Medium setting.
| Fitted Sheet | inches | cm |
| --- | --- | --- |
| King | 78 x 80 x 16 | 198 x 203 x 41 |
| Cal-King | 72 x 84 x 16 | 183 x 213 x 41 |
| Queen | 60 x 80 x 16 | 152 x 203 x 41 |
| Full | 54 x 75 x 16 | 137 x 191 x 41 |
| Twin | 39 x 75 x 16 | 99 x 191 x 41 |