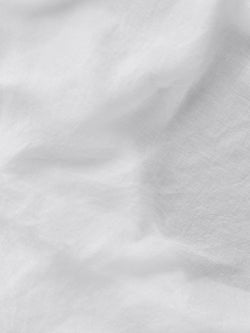 Description
Fabric
Care Details
Size
We offer our Vintage Linen fabric by the yard so that you may use it to make your own custom pieces. All of our fabrics are double wide; 100" - 130" wide on the roll depending on the fabric. After washing, the width of our Vintage Linen fabric is 115"; a one yard piece is 115"W x 36"L.
Due to garment-dyeing limitations, the longest continuous piece of fabric we are able to dye is 3 yards or 108" long. The longest possible piece of Vintage Linen fabric is 115" W x 108" L.
You may order as many yards as you need. If you are ordering more than 3 yards of fabric, please specify on your order, how long you would like each piece to be.
100% linen
Garment-washed and dyed using non-toxic dyes
Darker colors feature a contrasting white topstitch
Vintage Linen has been our most popular fabric for over a decade. This collection pays homage to everything we love about linen that has been passed down from generation to generation.
Derived from the flax plant, linen's durability and tendency to grow softer with time make it ideal for linens that can last for years. Linen is naturally moisture absorbent and insulating. It keeps you cool when you are hot, and warms when you are cold. Linen is also hypoallergenic and antimicrobial.
Our Vintage Linen uses a 28 single-metric yarn in both the warp and the weft. The weave is extremely balanced, which produces a linen fabric that is both soft and sturdy.The magic of our Vintage Linen is in the special washing process we use in our dye house. This wash opens and penetrates the depths of the fibers, softening each one and creating a truly special sleep.
It is difficult to understand the experience of a night's sleep in linen without trying. We hope you will. You will awake in the morning feeling refreshed and rejuvenated; linen breathes beautifully.
Wash
Wash should be separated into light & dark colors.We recommend a lukewarm wash cycle with a gentle detergent & a cool rinse.
Do not use bleach on linen. Avoid using products that contain whitening agents such as chlorine bleach, alpha hydroxy acids and benzoyl peroxide on garment-dyed items. The reactive dyes used for garment-dyeing are not resistant to these whitening agents.
Learn more about Garment-Dyeing.
Drying
Tumble dry with low heat.Remove bed linens promptly from the machine to reduce wrinkling.For best results, line dry.
Ironing
We at MATTEO tend to prefer a lived-in look, as such, you Don't find us ironing our sheets too frequently. If you prefer a crisp looking bed, our linen should be pressed while slightly damp using the Linen or High setting.