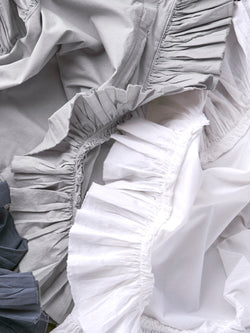 Description
Fabric
Care Details
Size
Our swatches allow you to see and feel each of our colors and fabrics first-hand, before you order our products. Each swatch is 10" x 10" and available in any of our Matteo colors.
100% Cotton
Garment-washed and dyed using non-toxic dyes
Percale weave
225 Thread count
Related Searches
Tat Linen Swatch, Ida Swatch, Tat Cotton Sham Single, Riviera Swatch
A cotton version of our classic Tat Linen collection! Our Tat collection is a true labor of love. We took a traditional ruffle detail and deconstructed it. We exposed the fine stitching details that are usually hidden underneath the seam and left the edges raw. We spent months adjusting the ruffle length and sewing tension.We even had to develop special ruching and shirring machines along with a novel cutting technique to get the ruffle just ruffle just right. It was worth it!
Tat Cotton uses our Nap percale as a base fabric. Nap is woven with the finest 40s single-strand yarn available. This percale has a nice crisp finish that recalls the comfort of a lightly-starched white dress shirt. Nap will get softer and softer with every washing and it will be a favorite in your linen closet for many, many years.
Wash
Wash should be separated into light & dark colors.Do not overload machine as this will damage long cotton fibers.We recommend a lukewarm wash cycle with a gentle detergent & a cool rinse.
Bleach may be used on white cotton bed linens only. Avoid using products that contain whitening agents such as chlorine bleach, alpha hydroxy acids and benzoyl peroxide on garment-dyed items. The reactive dyes used for garment-dyeing are not resistant to these whitening agents.
Learn more about Garment-Dyeing.
Drying
Tumble dry with low heat.Remove bed linens promptly from the machine to reduce wrinkling.For best results, line dry.
Ironing
We at MATTEO tend to prefer a lived-in look, as such, you don't find us ironing our sheets too frequently. If you prefer a crisp looking bed, our cotton bed linens should be pressed while slightly damp using the Lightweight Cotton or Medium setting.
| | inches | cm |
| --- | --- | --- |
| Swatch | 10 x 10 | 25 x 25 |