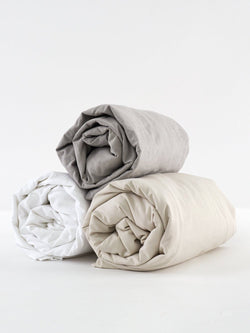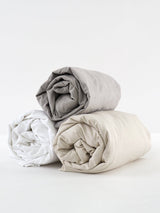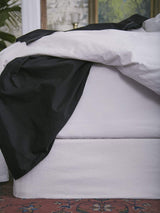 Description
Fabric
Care Details
Size
Sei is our highest thread count fabric at 600 TC. We are not myopically focused on thread count at MATTEO. Thread count is one among many measurements of quality in the world of bed linens. The most simple definition of thread count is to take a pair of scissors and cut out a square inch of fabric and count each individual yarn (or thread). This is the thread count and, as such, thread count is simply a definition of the density of the weave. It does not take into consideration the softness of the raw cotton used or the size and smoothness of the yarn, nor does it measure the balance of the weave. Focusing only only thread count is similar to deciding which beer to drink by only measuring its alcohol content.
We have not yet gone above 600 thread count at MATTEO because higher counts typically produce a stiff and dense fabric that does not move or breathe.  All sateens (or satin) fabrics have a face which is softer and a backside which is rougher. This is what creates the "silky" feel that customers love so much. And our customers love Sei because it is one of the purest, softest, and silkiest fabrics on the market.
Wash
Wash should be separated into light & dark colors. Do not overload machine as this will damage long cotton fibers. We recommend a lukewarm wash cycle with a gentle detergent & a cool rinse.
Bleach may be used on white cotton bed linens only. Avoid using products that contain whitening agents such as chlorine bleach, alpha hydroxy acids and benzoyl peroxide on garment-dyed items. The reactive dyes used for garment-dyeing are not resistant to these whitening agents.
Learn more about Garment-Dyeing.
Drying
Tumble dry with low heat.Remove bed linens promptly from the machine to reduce wrinkling. For best results, line dry.
Ironing
We at MATTEO tend to prefer a lived-in look, as such, you don't find us ironing our sheets too frequently. If you prefer a crisp looking bed, our cotton bed linens should be pressed while slightly damp using the Lightweight Cotton or Medium setting.
| | inches | cm |
| --- | --- | --- |
| King | 78 x 80 x 16 | 198 x 203 x 41 |
| Cal-King | 72 x 84 x 16 | 183 x 213 x 41 |
| Queen | 60 x 80 x 16 | 152 x 203 x 41 |
| Full | 54 x 75 x 16 | 137 x 191 x 41 |
| Twin | 39 x 75 x 16 | 99 x 191 x 41 |